"Newcomers Find Jobs, Prosperity in Atlantic Canada — If They Stay" by Kelly Toughill
If Anna Tselichtchev had been able to flee rural New Brunswick when she first arrived, she would have been gone in a flash. Now, she wouldn't leave for anything.
The factors that transformed the mother of two from an Israeli with itchy feet to a dedicated Atlantic Canadian are the focus of intense study in this part of the world as policymakers, employers and academics puzzle over how to boost immigration to help the regional economy.
Immigrants who stay in Atlantic Canada have higher employment levels, higher wages and face less discrimination than immigrants to other parts of Canada, yet the region struggles to attract newcomers and has the lowest retention rates in Canada.
Atlantic Canada Experiment
Atlantic Canada is engaged in a radical experiment in population management that has profound implications not just for this region, but for the country as a whole. The demographic bomb that threatens Canada is set to go off here first:
— Atlantic Canada has Canada's lowest birth rate, highest median age and often sends more residents to other parts of Canada than it takes in.
— Francis McGuire, president of the Atlantic Canada Opportunities Agency, points out that there are more than 20,000 jobs unfilled in the region.
— Across Atlantic Canada, one in every five residents is already over the age of 65. That compares to a rate of one in six across Canada.
— Newfoundland and Labrador schools have lost a third of their students since 1996; more people have died than were born in the province for each of the last three years and the average age is almost three years older than the Canadian average of 41. The Harris Centre of Regional Policy and Development at Memorial University predicts the provincial population will drop 10 per cent by 2036 and that some towns could see drops of 30 per cent or more.
— New Brunswick had an actual population decline in 2016 and has lost one-fifth of its school-age children in the last two decades.
— In Nova Scotia, the resilient economy of Halifax is the only factor propping up the province's population. Every region outside the provincial capital declined in the last census.
Newcomers: Immigration The Solution
Many agree that a massive increase in immigration is an inescapable part of the solution. All four provincial governments have made boosting immigration a key priority and Ottawa has stepped in with Canada's first regional immigration program: The Atlantic Immigration Pilot.
But deciding to transform your society with new blood is easier than actually doing it.
Only 18 per cent of the immigrants who landed in Prince Edward Island in 2011 were still there five years later. The rates are better in New Brunswick (52 per cent), Newfoundland and Labrador (56 per cent) and Nova Scotia (72 per cent), but they still fall far behind Ontario and Alberta, which kept 91 per cent of the immigrants who arrived in 2011, and British Columbia, which had a retention rate of 88 per cent over the same period.
Ottawa began shifting immigration responsibility to the provinces about 20 years ago.
The learning curve was steep. Initial programs in several provinces fell apart.
Newcomers Know It Is Cold
Now provincial recruiters target specific countries, make sure that potential newcomers know that Atlantic Canada is cold, rural and not particularly diverse, and they design immigration programs that encourage newcomers to settle.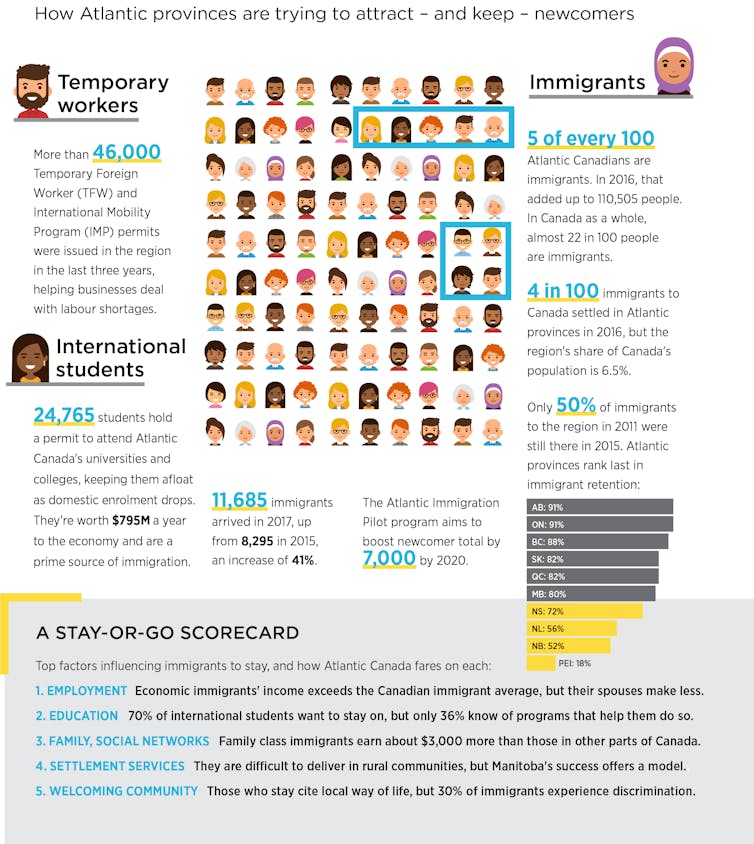 The decision to come to Atlantic Canada and the decision to stay are two very different things.
Surveys show that immigrants leave the region in search of better jobs, but research suggests that's not what they will find. In fact, immigrants in Atlantic Canada fare better economically than the average immigrant across Canada, and in some cases better than native-born Canadians.
Higher Wages in Atlantic Canada
A profile of immigrant tax filers in Atlantic Canada published by Dalhousie University professors Yoko Yoshida and Howard Ramos found that immigrants to Nova Scotia, New Brunswick and Newfoundland were more likely to be employed and earned higher wages than the average immigrant in Canada who landed at the same time. Immigrants to P.E.I. were below the Canadian average, as were spouses of primary applicants and refugees.
Professor Ather Akbari at Saint Mary's University found that immigrants in Atlantic Canada actually earn more than Canadian-born workers with similar skills who live in Atlantic Canada, though that wage advantage has narrowed over the last decade.
Research also disputes the familiar assumption that urban areas are more welcoming than small towns.
Dalhousie University's Ramos recently looked at actual experiences of discrimination based on ethnicity, race and language. Overall, the incidence of discrimination was far lower in rural areas than in big cities. Atlantic Canada came out particularly well, with very low rates of discrimination compared to Ontario, the Prairies and British Columbia.
Newcomers Do Encounter Hate
To be sure, newcomers do encounter hate and discrimination in Atlantic Canada, as in any other place.
Neo-Nazi posters have been plastered on the campus of the University of New Brunswick and on light poles in Charlottetown. Earlier this year, a Royal Legion manager in P.E.I. demanded that a Sikh customer remove his turban.
Gerry Mills, former executive director of the Immigrant Services Association of Nova Scotia, says there are three keys to retention: Jobs, family and community.
"We shouldn't underestimate the last one, the community one. If the children are happy in school if the partner has fulfilling work if the family is included in community events and contributing to the whole community if they are able to practice their faith," says Mills.
Friendly Atlantic-Canadians
Israeli immigrant Esti Barlevy tells a story about her first day in Saint John when a stranger said "hello" to her on the street and asked how she was doing.
"I thought, 'Why would he do that?' I thought, 'Why would he care?
"Then I realized that people here just care about each other for no benefit to themselves. People just care. It was a shock. I had never seen that before. In Israel, they wouldn't ask how you are even if they know you."
When the House of Commons Standing Committee on Citizenship and Immigration held hearings on immigration in Atlantic Canada, several witnesses said the government shouldn't make it easier or faster for newcomers to become permanent residents in the region because they'll leave as soon as they get the precious Permanent Resident card that allows them to work anywhere in Canada.
Anna Tselichtchev agrees.
Slow Transformation
Interviewed in the fluorescent-lit break room of a small office in Woodstock, N.B., Tselichtchev described a slow transformation.
First, she realized she had to flee the violence of Tel Aviv. Then she brought her two young boys to join her husband, who had snagged a job as a trucker in rural New Brunswick. Then she found herself slowing down in ways she could not have imagined in her go-hard-and-get-things-done lifestyle in Tel Aviv. She waited to get a work permit and volunteered. She made Canadian friends.
In the early spring of her second year in Canada, she peered out the window of their home and saw tiny hints of light green dotting the winter-bare limbs of the old oak in the yard. She couldn't believe that seeing those shards of new life made her want to cry.
"It wasn't even the leaves, just little things … Nature is beautiful here. New Brunswick is beautiful, and this makes me so happy. Maybe when I was 20 I couldn't see this beauty, but I cannot lose this beauty now."
Credits
This article derives from The People Imperative. Kelly Toughill researched and wrote the report for the Public Policy Forum, which is conducting a three-year project on Atlantic immigration and revitalization.
Kelly Toughill, Associate Professor, University of King's College
This article is republished from The Conversation under a Creative Commons license. Read the original article.
You might also like How Money Is Destroying The World