"Is the #MeToo era a reckoning, a revolution, or something else?" by Zora Simic, UNSW Sydney
"The world", declares Laurie Penny on the first page of their new book, "is in the middle of a sexual revolution." And unlike earlier sexual revolutions, this one is for real – provided we eradicate capitalism, fascism and the patriarchy.
With this call, it's business as usual for British writer and activist Penny, who has never sugar-coated their feminist and radical politics.
Australia's Laurie Penny
Penny – who is genderqueer and uses they/them pronouns – first came to public attention in the 2000s with the blog Penny Red and regular columns in left-leaning outlets like the Guardian and New Statesmen. A steady stream of books followed, with arresting titles like Unspeakable Things (2014) and Bitch Doctrine (2017), in which Penny dared to call out the sexism of the radical-left circles in which they moved.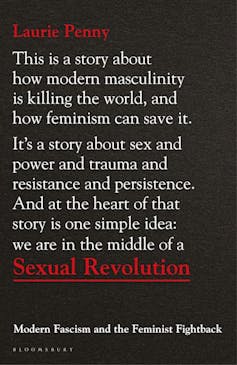 Anticipating the first-person feminism of Australia's Clementine Ford, among others – and updating the 1970s mantra "the personal is political" for a new generation – Penny has often shared difficult and intimate personal experiences, from anorexia to masturbation to sexual assault. And while they have been what would now be described as "extremely online", they have also gone in person to where the action is, whether taking part in the Occupy movement or travelling to Greece to observe the financial crisis up close.
Given all that Penny has been writing and protesting about for well over a decade, it was inevitable that they would write what could broadly be described as a #MeToo book – indeed, most of their six previous books have been #MeToo books of a kind. Penny deserves recognition for writing about sex and power in unapologetically feminist terms when mainstream feminism was widely considered to be in the doldrums, passé, and/or no longer necessary.
The #MeToo Movement
Still, it's no longer 2007 – which, as well as being the year Penny started blogging, was also the year that African American activist and survivor Tarana Burke launched the #MeToo movement, her hashtag raising awareness of the pervasiveness of sexual harassment and assault.
Since 2017, when #MeToo went viral and then global, countless words have been written about it by feminists, including Burke, whose memoir Unbound: My Story of Liberation and the Birth of the Me Too Movement (2021) is essential reading. Penny is entering a crowded field, inviting the question of what is new and distinctive about the grandiosely titled Sexual Revolution: Modern Fascism and the Feminist Fightback.
At their best, Penny offers a rousing and enticing prediction for what sits on the other side of the #MeToo era. For Penny, the present moment is one in which "sex and gender are in crisis". #MeToo is part of a "Great Reckoning" that almost nobody saw coming, because "when it came, it came from women".
We are now "living through a profound and permanent alteration in what gender means, what sex means, and whose bodies matter".
Thousands of Years of Patriarchy
Everywhere "women, men and LGBTQ people … are walking quietly away from the expectations posed on them by thousands of years of patriarchy". The changes underway promise "ways of life that are not based on competition, coercion and dominance but on consent, community and pleasure".